---
​
As part of a research residency at LA CHAMBRE BLANCHE, Paul Kawczak will continue his writing without writing project, L'Autre Histoire Du Ski. Through this project, he seeks to make his self-portrait without representing himself, by appropriating the world around him, according to the principle of the literary ready-made and in line with Kenneth Goldsmith's Uncreative Writing.
Influenced by Holocaust (1975) by the poet Charles Reznikoff, which puts into verse textual pieces from the Nuremberg and Eichmann trials, Paul Kawczak wishes, for the second volume of L'Autre Histoire Du Ski, to work on the textual traces including the name "Kawczak" in the Arolsen Archive, which documents the Nazi persecution, preserving the exact words (in original language and in French translation) to develop a process of recopying and presenting texts that finds meaning in a process of literal/literary re-enactment of the History.
For his residency, Paul Kawczak will travel along different axes through the archives of LA CHAMBRE BLANCHE, in order to work on the preparation of the recopying of archives from the Second World War. It will seek, among other things, to explore recopying, re-enactment, the literary ready-made, non-creative poetry, the heritage of the violence of History in art, the heritage of the violence of History in the self-narrative, the representation of violence or even the representation of the family bond.
With the help of the centre's archival funds, Paul Kawczak will do a collection/collage/device work preparatory to the exploration and work of this historical textual material concerning his surname.
---
Paul Kawczak is an editor at La Peuplade. He has written two poems collections, a novel, and will publish an essay on the adventure novel. He has been writing texts on works of art for about ten years. He taught arts et lettres at UQAC. At the moment, he is busy with a long-term concept writing project, L'Autre Histoire Du Ski.
---
---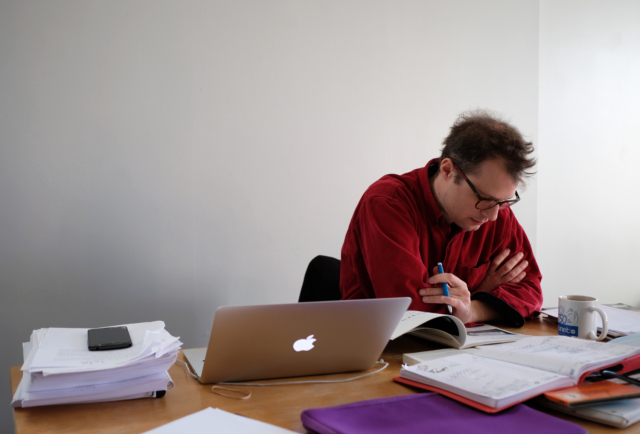 ---
Photo : Carol-Ann Belzil-Normand, 2022.
---